Feature
1. Without any boiler modifications, it reduces NOx emissions by flue gas self-recirculation.

2. High speed revolution assures excellent combustion performance through fine atomisation.

3. Baffle plate and high speed revolution assure stable combustion and low air ratio that give energy saving effects.

4. Oil feeding is not affected by the variation of oil viscosity because of rotary type.

5. It assures a wide turn down ratio as well as fine atomisation through high speed revolution.

6. Separate primary air fan and seamless flat belt reduce the noise.
Specification
ONR-25

ONR-40

ONR-62

ONR-100

ONR-160

MAX COMBUSTION

(l/hr)
250
400
620
1000
1600

TURN DOWN RATIO

1:5
1:6
1:6
1:8
1:8

BURNER AIR PRESSURE

(mmAq)
250
280
300
330
350

NECESSITY INSIDE
DIAMETER
(T/H : Boiler evaporation )

mmØ
2T/H
3T/H
4T/H
5T/H
6T/H
8T/H
10T/H
12T/H
15T/H
20T/H
580
620
700
740
870
940
1070
1170
1250
1440

ventilation

Pressure ventilation combustion

BURNER MOTOR OUTPUT

KW
2P 0.75

OIL PRESSURE CONTROL

VC-2
VC-3
Quality Technical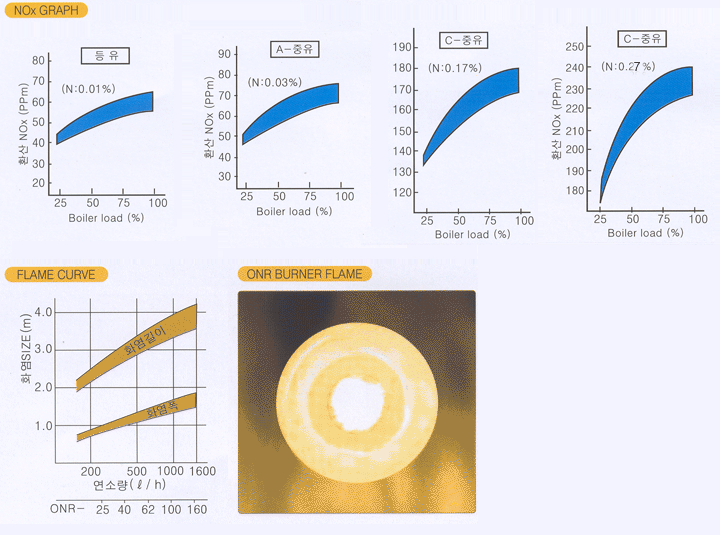 About NOx

Graph commonness condition

That do NOx by specification driving condition because differ quantity about NOx's desired
  value or warrant individuation examine. And treat and inquire to this firm in case burner
 ten loads exceed 120 X104 ㎉ /m3hr
Air ratio : 1.10 ~1.15
NOx : O2 4%
(number of conversion)
Air temperature : 20oC