Feature
1. Rotary burner type It has a rotary cup and the gas header is fitting at
 nozzle round, therefore it can burn low qualty oil because of wide
 combustion range.

2. Wider fuel use It can burn all kind of combustible gas, such as diesel
 oil,bunker A,B,C oil, low qualty liquid fuel, waste gas, natural gas and LPG.

3. Fine atomization High speed revolution of rotary burner makes fine
 atomization of oil and gives an advantage of designing combustion chamber
 smaller.

4. Low air ratio Through fine atomization of fuel oil, optimum design of
 distributing combustion air, exellent control of fuel/air gives low air
 requirement.

5. Easy maintenance Burner body can be opened.closed by hinge,
 therefore it is easy to access to throat area.
Specification
Model
CRBS
CRB
1
2.5
4
6.5
10
10
Capacity(x104kcal/h)
100
250
400
650
1,000
1,000
Consumption
Oil(kg/h)
30-120
50-250
80-400
110-650
160-1000
170-1150
Gas(Nm3/h)
24-120
50-290
68-470
97-770
115-920
143-1150
Turn down ratio
1:4
1:5
1:5
1:6
1:6
1:7
Register draft loss(mmAq)
120
140
160
190
200
220
Motor(KW)
Burner
0.75
1.5
2.2
3.7
5.5
5.5
Oil pump
0.4
0.4
0.4
0.75
0.75
0.75
P&I.D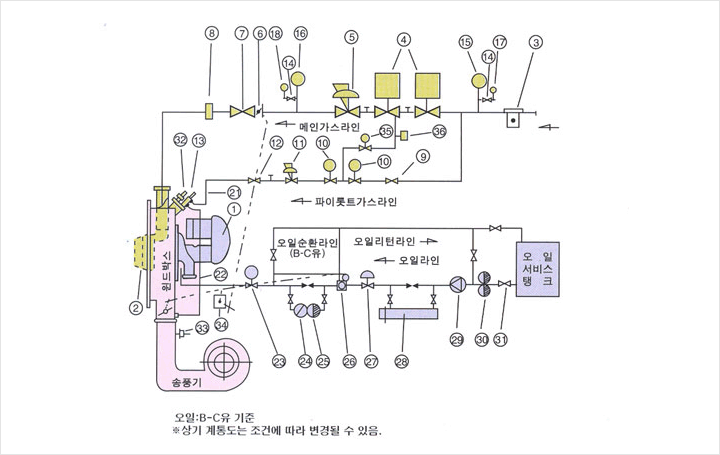 | | | |
| --- | --- | --- |
| NO | Description | QTY |
| 1 |  Rotary Oil burner | 1 |
| 2 |  Gas header | 1 |
| 3 |  Gas filter | 1 |
| 4 |  Gas shut-off valve | 1 |
| 5 |  Main governor | 1 |
| 6 |  Gas control valve | 1 |
| 7 |  Gas stop valve | 1 |
| 8 |  flame arrester | 1 |
| 9 |  Pilot stop valve | 1 |
| 10 |  Pilot solenoid valve | 1 |
| 11 |  Pilot governor | 1 |
| 12 |  Pilot stop valve | 1 |
| 13 |  Pilot burner | 1 |
| 14 |  Guage cock | 1 |
| 15 |  Gas pressure,switch(low) | 1 |
| 16 |  Gas pressure,switch(high) | 1 |
| 17 |  Gas pressure guage | 1 |

| | | |
| --- | --- | --- |
| NO | Description | QTY |
| 18 |  Gas pressure guage | 1 |
| 19 |  Pilot gas pipe | 1 |
| 20 |  Pilot air pipe | 1 |
| 21 |  Oil solenoid valve | 1 |
| 22 |  Oil flow meter | 1 |
| 23 |  Oil strainer | 1 |
| 24 |  Oil control valve | 1 |
| 25 |  Pressure reducing valve | 1 |
| 26 |  Oil heater | 1 |
| 27 |  Oil pump | 1 |
| 28 |  Oil strainer | 1 |
| 29 |  Oil main valve | 1 |
| 30 |  Flame detector | 1 |
| 31 |  Air pressure switch | 1 |
| 32 |  Modutrol motor | 1 |
| 33 |  Gas vent valve | 1 |
| 34 |  Gas leakage detection switch | 1 |